WBFC is compling a weekly video series on fly tying. Here, you will find a variety of "fly tying video's" showing you step by step how to put each fly together, along with tips on how and where to fish them. Each, high quality video also has a list of ingredients or pattern index at the end of each segement. You can purchase the ingredients on each video page and we will ship it to you where ever you are in the world.
We appreciate your business and hope you enjoy the series. Feel free to contact us with any questions you may have.
Worley Bugger Fly Co. ships our high quality fly fishing and tying products daily using USPS Priority Mail. Delivered directly to your post box for as little as $8.95 per box.


Aron Larsen, Professional, Head Guide at WBFC shows you how to tie the "Foam Head Goldenstone". This is a great pattern for high floatability and works well with tandem style rigs, like the popular hopper dropper combinations. You can tie this fly in a variety of colors and sizes to meet and match and stonefly hatch that you encounter. Thanks for viewing and sharing.
"FOAM HEAD GOLDEN" RECEIPE CONTENTS:

KUMOTO K2302 HOPPER HOOK

WIDOW'S WEB-TAN

FLY FOAM-1MM-TAN/BROWN

RUBBER LEGS-FINE-BROWN

DEER BODY HAIR-NATURAL

VEEVUS-10 THREAD-BROWN
PRO TYER
PATTERN
PRICE PER 1/2 DOZEN
ARON LARSEN
FOAM HEAD GOLDEN
PRICE: $69.95 per pack

Purchase a 1/2 dozen custom tied flies from this video. You will receive 1/2 dozen custom flies directly from the WBFC Pro-Shop and Pro-Staff tyer. Custom flies take 5 to 7 days to receive.

---
COMPLETE KIT
PATTERN
PRICE

THE COMPLETE FLY




TYING KIT

FOAM HEAD GOLDEN
PRICE: $32.95 per pack

The complete Kit contains every fly tying item that you will need to put together your own patterns. (excluding vise and tools). Purchase the complete kit or buy only the items that you need below.

---
MATERIALS
PRICE
KUMOTO-K2302 HOPPER HOOK-#10
PRICE: $9.95 per pack
WIDOWS WEB-CADDIS TAN
PRICE: $4.95 per pack
FLY FOAM-1MM TAN
PRICE: $2.50 per pack
THIN FLY FOAM-BROWN
PRICE: $2.00 per pack
RUBBER LEGS-FINE-BROWN
PRICE: $4.00 per pack
DEER BODY HAIR-NATURAL
PRICE: $4.95 per pack
VEEVUS-10/0 THREAD-BROWN
PRICE: $4.50 per pack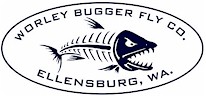 1713 SOUTH CANYON ROAD
ELLENSBURG, WA 98926
509-962-2033
www.worleybuggerflyco.com