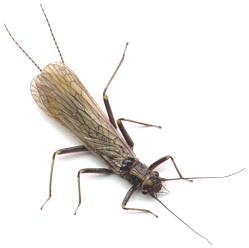 When I first began fly fishing the Yakima in the late 1980's, the chatter with area fly fishermen and guides alike had always revolved around a Golden Stone hatch that appeared on the waters of the Yakima River, sometime during the month of February. To me, that always seemed a bit odd and much to early for a Golden Stone species that typcially hatches in the warmer climates of mid summer. However, anything is possible, since the Central Washington climate and conditions were much warmer than I was use to seeing at that time of year.
The Kittitas Valley is classified as a semi-arid desert climate and the Central Washington desert is only a short drive to the east. The mighty and massive, Columbia River divides Kittitas County and Grant county and the unique, temperate difference between these two regions is diverse, within their distinctive landscapes.
The Montana rivers I grew up fishing hadn't produced a Golden Stonefly hatch, until the early summer months of the season. After closer examination of a sample species of the Yakima River Skwala by a University of Davis entomologist and close family friend, this early spring stonefly was correctly identified as the Skwala Stonefly, not what was preceived to be as the Golden Stonefly vareity.
This size 8 to 10 Stonefly sets in motion a host of exceptional post winter or early spring dry fly fishing. There are infinite numbers of the Skwala Stoneflies in the Yakima River, and their populations contribute to a large portion of the insect bio-mass in the Upper River. They are second only in population to their much later processors, the Summer Stone or Short Wing Stonefly. In a normal winter and early spring you should begin seeing tell tale signs of adult activity by mid to late February.
This hatch can begin around that time frame and continue on well into the month of April. Generally we are looking for water tempertures to reach (42°) forty two degrees or better. Of course as the air temperture increases, we risk the possibility of experiencing a high water event with snow pack run-off beginning. So timing can be everything when it comes to good Skwala fishing.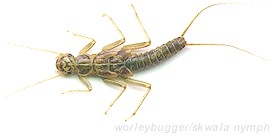 If a high water event does occurs, then a sudden drop in water temperature will most likely retard the hatch and the migration of stonefly nymphs. Their emergence cycles in most cases become dormant again during this period. Once the river conditions improve, the emergence originates again and the stoneflies begin convening along the banks of the river in masses. This cycle can play out several times over a season, when unruly water conditions are constantly changing due to irregular weather patterns.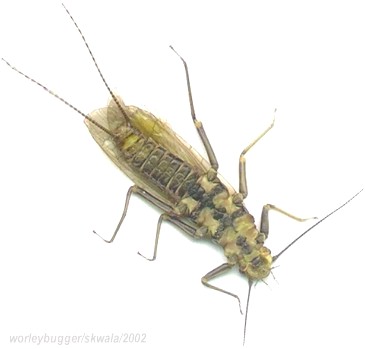 The Skwala Stonefly is common in many streams, creeks and rivers throughout the entire western United States.
The Skwala Stonefly can be found in California, Colorado, Idaho, Montana, New Mexico, Nevada, Oregon, Utah, Washington, and Wyoming. There size will range from 8 to16mm depending on the gender of the species.
The female is of course larger as in most stonefly species that are found. There normal emergence period begins around the middle of February and water temperature is ususally the key factor in there emergence.
It must be in the middle to middle to high 40's before we begin to see them emerging in great numbers. Like many stonefly speices, the afternoon and evenings are the best times to see this stonefly and when they are most active.
Because they are a post winter stonefly, their activity is generally very slow especially when the females are lying eggs on the water. Like other stoneflies that generally will take flight across the water, Skwala Stoneflies generally exhibit this behavior. Not always, but in most circumstances they will amass along the banks and after procreation, the female will slowly crawl out along the waters edge to begin the egg laying process. They drift naturally with the current, slowly disengaging the black eggs. Of course this is why we find trout that are keyed in on Skwala Stoneflies to be holding closely to bank and these migration areas.
The WBFC EDU is dedicated to educating anglers on all aspects of fly fishing and one of if not the most, important pieces to that puzzle is food. Under our Insects, Hatches, and Baitfish section anglers will be introduced to the large selection of species that call our river home and our trout call lunch. Anglers will also have an in-depth look at what flies imitate what sources of food and many of those patterns will also have videos under our media section for you to reference when preparing for your next fishing adventure.
From Stoneflies to Caddis, Crawdads to Sculpin we here at WBFC want you to have access to the most information around when it comes to fly fishing. The team at Worley Bugger Fly Co. is dedicated to making you into the best fly fisherman possible. Check the Links below or above to be directed to our fly tying and EDU Videos, our Hatches Index, and our Insect Identification for an in-depth look at food for trout.
1713 SOUTH CANYON ROAD
ELLENSBURG, WA 98926
509-962-2033
www.worleybuggerflyco.com