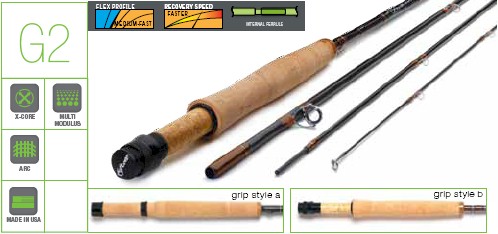 G2 rods have become the standard by which all technical trout rods are judged. If stalking big wary trout with tiny flies and light tippets is what you dream about, look no further for the perfect fishing tool. G2 rods turn over the longest, lightest leaders with ease, and let you control drifts in the trickiest currents.
They generate the perfect combination of line speed and loop control, and are pinpoint accurate. And, when you have to mix it up and show them something bigger, G2 rods are happy to handle that job for you.
Scott G2 Ferrule System=

•
Natural finish blanks for greater feel and durability
•
Ultimate tippet protection for
landing big fish
•
Measuring wraps for bragging rights
Why Natural Finish?
Natural finish blanks let us precisely control the amount of fiber and resin in each blank. They are the purest expression of rod design, and create a rod with great touch, durability and feel
Recommended Fly Lines For the Scott G Series Fly Rod

SA Trout
SA Expert Distance
SA Sharkskin