| | | | | |
| --- | --- | --- | --- | --- |
| | Toll Free Order Line 888-950-FISH | View Cart Contents | | HOME |
BACK TO FLY REELS
Galvan Rush Fly Reel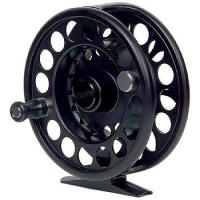 A mid-priced reel with a state-of-the-art drag system.
The RUSH Large-Arbor series was designed with the budget-conscious angler in mind. It features the same incredibly smooth and durable thermoplastic drag system as the Torque, but with a more basic spool and frame design to keep costs down.
The drag system is easily changeable from left to right retrieve. The Rush reels also retain that smoothness of action and quiet click that Galvan has become known for. The incredibly smooth and powerful new drag system further sets these reels apart.
Composed of stainless steel, self-lubricating bronze, and a state-of-the-art, heat and wear resistant thermoplastic material unlike anything else on the reel market, Our new drag system will give flawless performance in any conditions on the planet.
The Rush is also constructed with all of the quality that has been a hallmark of the Galvan tradition. It is available in sizes three weight to eight weight for all types of fishing. Top-of-the-line performance at a mid-line price. Available in a matte-black anodized finish.
GALVAN RUSH SERIES PRICES & SECURE ORDERING INFORMATION
Model
Diameter
Width
Weight
Rod Wt
Reel Cost
Spool Cost
C.R. Points

R-3

3.0"
.850"
4.6 oz
2-3

R-4

3.25"

.850"

4-5

R-5
3.50"
.900
5.4 oz
5-6
R-6
3.75"
.950
5.7 oz
6-7
R-8
4.0"
1.25"
6.8 oz
7-8
R-10
4.25"
1.35"
9.4 oz
9-10
R-12
4.50"
1.35"
10.1 oz
11-12
Pro Shop Hours 8:00 A.M.- 5:00 P.M. (pst) 7 Days A Week Online Ordering-24-7
Worley Bugger Fly Co. ships worldwide using

Free USPS Priority Mail Shipping on orders of $100.00 or more.
If you have any questions or would like to order any of our quality products toll free, please contact us. A representative of Worley Bugger Fly Co. will be happy to assist you with your purchase (s).