| | | | | |
| --- | --- | --- | --- | --- |
| | Toll Free Order Line 888-950-FISH | View Cart Contents | | HOME |

BACK TO FLY REELS
Galvan Torque Fly Reel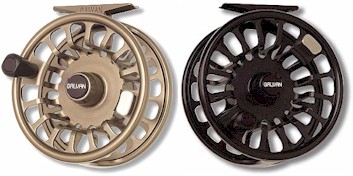 Introducing the Galvan Torque Large Arbor reel. Function, unique design, and quality: All the hallmarks of the Galvan tradition are represented in this completely new reel. What's different about it? Everything. From the rounded spool and frame rims, to the contoured counter balance, to the uniquely designed cutouts on the spool, frame, and drag knob, to the innovative new drag system, the Torque is clearly a step up in fly reel design.
The drag system for the Torque is composed of stainless steel and a state-of-the-art, heat- and wear-resistant thermoplastic unlike anything else on the reel market. It is completely salt water safe, and will continue to perform flawlessly under the harshest conditions from the flats and the blue water to the mountain streams and the coastal rivers.

Its unique design does not rely on ball bearings, but retains the smoothness of action that Galvan is known for. The ventilated drag knob is solidly detented for precise settings. Quiet clicks both in and out add to the distinctive style.
It is easily interchangeable from right to left-hand retrieve and the highly ventilated spool and frame will balance nicely with the lightest of today's fly rods.
The Torque is available in graphite bronze and black finishes. From the first sight, the hand is drawn to the reel. From the first spin of the spool, the quality becomes apparent. Does form follow function, or does function follow form? In the Torque, it all folds into one.
The Torque Large Arbor reel available in Graphite Bronze or Black finish. Please specify color when ordering.
GALVAN TORQUE SERIES PRICES & SECURE ORDERING INFORMATION
Model
Diameter
Width
Weight
Rod Wt
Reel Cost
Spool Cost
C.R. Points

T-3

3.0"
.850"
4.2 oz
2-3

T-4

3.25"

.850"

4-5

T-5
3.50"
.900
4.8 oz
5-6
T-6
3.75"
.950
5.2 oz
6-7
T-8
4.0"
1.25"
7.6 oz
7-8
T-10
4.25"
1.35"
8.2 oz
9-10
T-12
4.50"
1.35"
8.6 oz
11-12
Pro Shop Hours 8:00 A.M.- 6:00 P.M. (pst) 7 Days A Week Online Ordering-24-7
Worley Bugger Fly Co.ships worldwide using

Free USPS Priority Mail Shipping on orders of $100.00 or more.
If you have any questions or would like to order any of our quality products toll free, please contact us. A representative of Worley Bugger Fly Co. will be happy to assist you with your purchase (s).