In the early stages of his youth, both father and son spent carefree days, wandering around the local ponds in Kittitas County. Most of these local fishing holes are stocked annually with trout and house a wide range of warm water species as well. As an up and coming angler, it was a great place to learn how to catch fish and study the bugs that fish spend time eating. The biology, botany and study of all things fish related, intrigued this young mind and kept the wheels constantly churning.
These small, little water impoundments were man-made and created as gravel pits during the construction of Interstate 90, as it was being commissioned throughout Kittitas County. There are many of these fishing ponds along the highway sides of the interstate as you travel east or west throughout Washington State and especially along the corridor, between the rural towns of Ellensburg and Cle Elum.
These ponds and small lakes are great places to keep a young fishermen distracted. However, as a novice angler develops and begins to show great promise, these places usually become less inviting. The thrill of catching hatchery planted fish is less appealing and a emerging angler can quickly become uninterested. It was here that his young mind became intrigued with other fish species living within the pond that were not churned out in a fish farm. Targeting the fish species that other anglers showed no interest in or hatered for became his obsession and after careful study, he quickly developed flies to impale Grass and Common Carp on. These big, powerful fish are spooky and most times hard to catch on a fly. Many consider them to be the equivelent of a freshwater bonefish, with the speed and power to match.
The challenge of catching something fashioned in a factory, rather then by Mother Nature herself, seems tainted or less thrilling. A true sportsman by trail and error seeks out the challenge in every event and hails in the victory, once the objective has been obtained. Dom, as many of his friends refer to him as, is one of these young fishing prodigies and sportsmen.
He is always looking for the next species of fish to catch and developing the fly to do it. It seems the gears are always turning inside the young mind.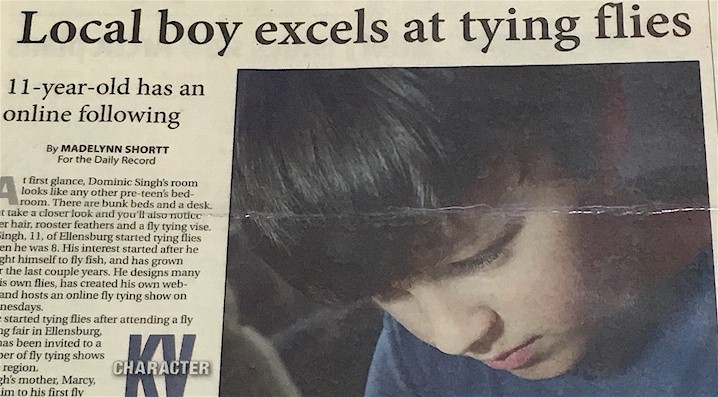 Once the fascination of catching fish began, it quickly grew into a intense obsession, one his parents encouraged greatly, but were also somewhat concerned about. Could this absorbent preoccupation with fish and flies really be healthy, for such a young man? When most boys his age were engrossed in sports like football, baseball and basketball, Dominic was building flies at his workbench to catch fish. Well, it turns out that it was a nourishing endeavor and Dominic to date has excelled in his life challenges, thus far.
Dom's first interest in lure making was at the ripe old of seven. His Grandfather Singh, brought him through the doors of the Worley Bugger Fly Co. for the first time and owner, Steve Worley still recounts seeing him. "He could barely peer over the front counter, but his eyes were big and broad and you could tell right away that he was interested in fly tying. This probably wasn't going to be just a fad for him. I remember our good friend and long time employee, Tim Irish helping him with questions and materials". Every time he came through the door, Timbo embraced the opportunity and spent his time encouraging him to keep pushing the limits and filling him with inspiration.
Dom exceeded everyone's exceptions and quickly began experimenting and practicing the skills that every ardent fly tier must accomplish before taking your skills to the next level. His knowledge in the world of fly tying was mostly through trial and error and the majority of his talents are self taught. He spent countless hours at the vise, twisting and turning every imaginable material available, to create and craft, a replication that would fool a fish into biting it.
Over the next 11 years, Dom became fully immersed in the fly tying community. He participated as a demonstration tier in many of the fly fishing expos that are held annually across several western states. His appearences at these major fly fishing shows was something everyone looked forward to and his exploits and talents were quickly recongized by his peer's. Here, he embraced the opportunity to learn from countless, legendary fly fisherman about the wonders of the fly tying world and discovered many new techniques for fashioning flies. He now servers as an ambassador and prostaff tyer for several different fly tying companies at this time.

Dominic has worked as a commercial fly tier for several seasons now, providing thousands of high quality flies for many popular fishing destinations. He specializes in streamer and saltwater fly patterns specifically, but also crafts beautiful dry flies and the like. I don't think their is a fly created that he can't diagnose and skillfully put together. Each season, Dom provides dozens of his hand tied saltwater flies to groups venturing to the salt trophics of Mexcio, Bahamas and Christmas Island.
At the age of 18 years old, Dominic has visited over four different countries and has landed over 85 species of fish on a fly. Fishing saltwater has always been a great passion of his. Whether he is walking the warm, humid tropical sand flats or reefs in the Western Hemisphere or casting a line off the coast of the Pacific Northwest. Passion is passion and at a young age, Dom has submersed himself into the world of fly fishing.
In his early canvassing career, Dom has already landed, bonefish, permit, and trevally in his saltwater fishing travels. He also enjoys fishing for many of the under rated and less targeted fly rod species in the Bahamas, Mexico, Florida and Hawaii. Throughout the year, Dom also enjoys the many fly fishing opportunities that are available off the shores of the Washington and Oregon coastlines.