However, the October Caddis is highly vulnerable during it's time of emergence. Upon chewing it's way out of it's shuck (right) the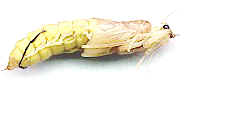 pupa emerges (bottom left) to the surface and are picked off one by one by the trout at this time.
For some reason I have yet to figure out the trout deviate between the adult and pupa stages of the insect. Casting big dries during a fall day on the Yakima will provide anglers with some of the best dry fly fishing of the year.
The hatch will begin early at dawn and just before dusk. You may see a few hatch through-out the day. Walking along the banks of the Yakima in the fall, an angler will see the hundreds of October Caddis casing along the shore. Casting a big October Caddis imitation or your favorite October Caddis pattern, will attract some very large and hungry fish.