The adjustable bobbin by Merco Products allows you to adjust the thread tension on the spool. Stop those frustrating moments at the vise when the thread breaks on you. The Rite Bobbin accepts all standard spools, plus the Gudebrod Rod winding thread and Dyna-cord.
The small diameter ceramic no-wear tube allows intricate work with fine thread on the smallest to large hooks.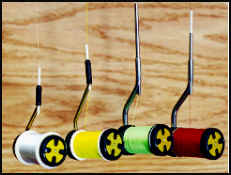 The large bore long tube makes big and bulky flies easy to tie. The non-flared end and heavier tube wall will wear well and can be easily refinished should wear occur. The Cermag's Ceramic insert combines the "Rite"-Bobbin's feature with the long reach.