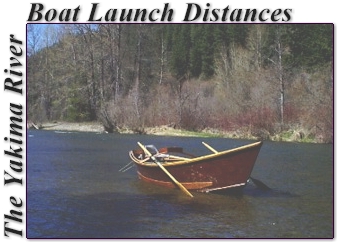 The boat launch distances are calculated in river miles.
---
•

Ensign Ranch To Three Bridges

---

4.3 Miles

some hazards

Three Bridges To S. Cle Elum Bridge

---

8.0 Miles

extremely hazardous/not recommended for floating

S. Cle Elum Bridge To East Cle Elum

---

5.4 Miles

some difficulty/watch for hazards

East Cle Elum To River Raft Rental

---

15 Miles

some difficulty/watch for irrigation flume on west side must take out at boat launch area. Diversion Dam 1 mile ahead

K.O.A. To Rinehart Park

---

2.8 Miles

some hazards/stay left over diversion dam 3/4 through the drift.

Rinehart Park To Ringer Road

---

4.9 Miles

extremely hazardous at times/Extreme caution must be used through the tree farm section at all times/not recommended for novice oarsmen.
---
Ensign Ranch To Three Bridges

---

4.3 Miles

some hazards

Three Bridges To S. Cle Elum Bridge

---

8.0 Miles

extremely hazardous/not recommended for floating

S. Cle Elum Bridge To East Cle Elum

---

5.4 Miles

some difficulty/watch for hazards

East Cle Elum To River Raft Rental

---

15 Miles

some difficulty/watch for irrigation flume on west side must take out at boat launch area. Diversion Dam 1 mile ahead

K.O.A. To Rinehart Park

---

2.8 Miles

some hazards/stay left over diversion dam 3/4 through the drift.

Rinehart Park To Ringer Road

---

4.9 Miles

extremely hazardous at times/Extreme caution must be used through the tree farm section at all times/not recommended for novice oarsmen.

Ringer Road To Big Horn

2.8 Miles

From the Ringer Rd. Boat Launch through the "Lower Yakima River Canyon to the Roza Recreation Area you will find very few hazards. This water is ideal for novice and intermediate rowing skills.

Big Horn To Umtanum

5.9 Miles

Umtanum To River View

1.6 Miles

Squaw Creek To "The Slab"

3.0 Miles

"The Slab to Roza Recreation Area

2.6 Miles
Home | Contact Us | River Reports | Fly Fishing Adventures