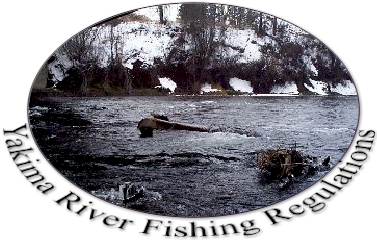 Below are the fishing rules & regulations set forth by the "Washington Department of Fish & Wildlife"

During the 1980's, the Yakima River took on dramatic changes. In 1983, a Selective Fishery Designation was placed on the river from the mouth of the Teanaway river to Wilson Creek with limited creel, gear and size restrictions. Also in 1983 the State Fish & Game stopped planting the river.

In 1986, bait fishing was prohibited for trout from Easton to Roza Dam. In 1988, the Yakima River was placed under "Selective Fishery Status" with barb-less hooks required. By 1990 the river became declared a Catch & Release fishery, and in 1991 was opened to year around fishing. The result has been a dramatic increase in fish and fish sizes.
WATER

SPECIES

SEASON
SIZE
LIMIT
RULES

Entire river, including tributaries and drains
Steelhead/Salmon
Closed to Steelhead/Salmon
From mouth (Hwy. 240 Bridge) to Roza Dam
Trout
CHECK CURRENT REGULATIONS
Catch & Release
From Roza Dam to Easton Dam
Trout
Year Round
Statewide Rules
Catch & Release
From Lake Easton to Keechelus Dam
All game fish
Year Round
Statewide Rules
Selective Fishery Regulations
CLOSED WATERS-From Easton Dam downstream 400'. Use of boats with motors allowed from the U.S. Bureau of Reclamation restricted area signs at Roza Dam upstream to the boat launch ramp on the Roza Access Area (approximately 1/2 mile)
Statewide General Freshwater Rules