The Wapsi Tungsten "Slotted" beads are available for many hook styles, however that are ideal for using with jig style hooks.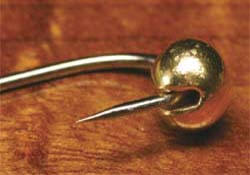 Tungsten beads in most cases is twice as heavy as brass. If you are looking to boost the weight of your flies, tungsten beads will do just that.
Also a great alternative where lead substances are banned.
The Tunsten Slotted Beads are avaialble in 4 colors and 6 different sizes. 10 beads per pack.
Copper

Black Nickel

Gold

Nickel