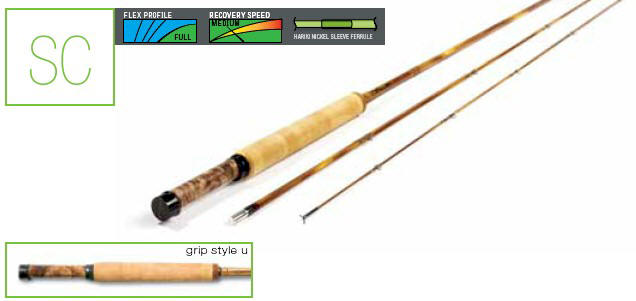 Scott has partnered with Bernard Ramanauskas, award winning master cane builder, innovator, and fly fishing fanatic to bring you some remarkable split cane rods.
Each proprietary model features unique taper designs, hollow built blanks, swells, and a host of other tricks like node stabilization for some of the lightest and best balanced rods around. Actions are crisp and the rods cast a very flat line.
Blanks are flamed a medium cognac color and are joined with light weight nickel silver ferrules hand made by master ferrule maker, Hariki in Japan.
Spalted maple wood inserts with engraved nickel silver cap and ring hardware are hand finished and blued.
Wraps are flawless in translucent silk with burgundy silk trim. Blued Snakebrand Guides with select real agate stripping guides in nickel silver frames round out the components.
These prized rods are very limited.
Why Bamboo?
Great fly rods are made from a variety of materials. Whether built from graphite, fiberglass or bamboo, the key is bringing together material selection, design, and craftsmanship. Each material has its own characteristics, and bamboo can be used to create rods that stand the test of time for true performance and sublime beauty.