Plummeting Tungsten Beads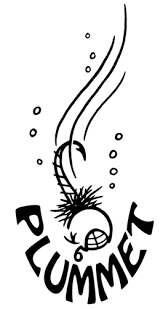 A staple in any fly tiers arsenal of materials. These "tungsten" beads are countersunk to slide easily over the bend of any fly hook.
Tungsten is heavy, typically about twice as heavy as your standard brass beads. If you want your flies to sink quickly and get in the strike zone these are the beads to tie with.

They come in a variety of sizes and colors to add weight and texture to any of your nymph or wet flies. 20 beads per pack.
---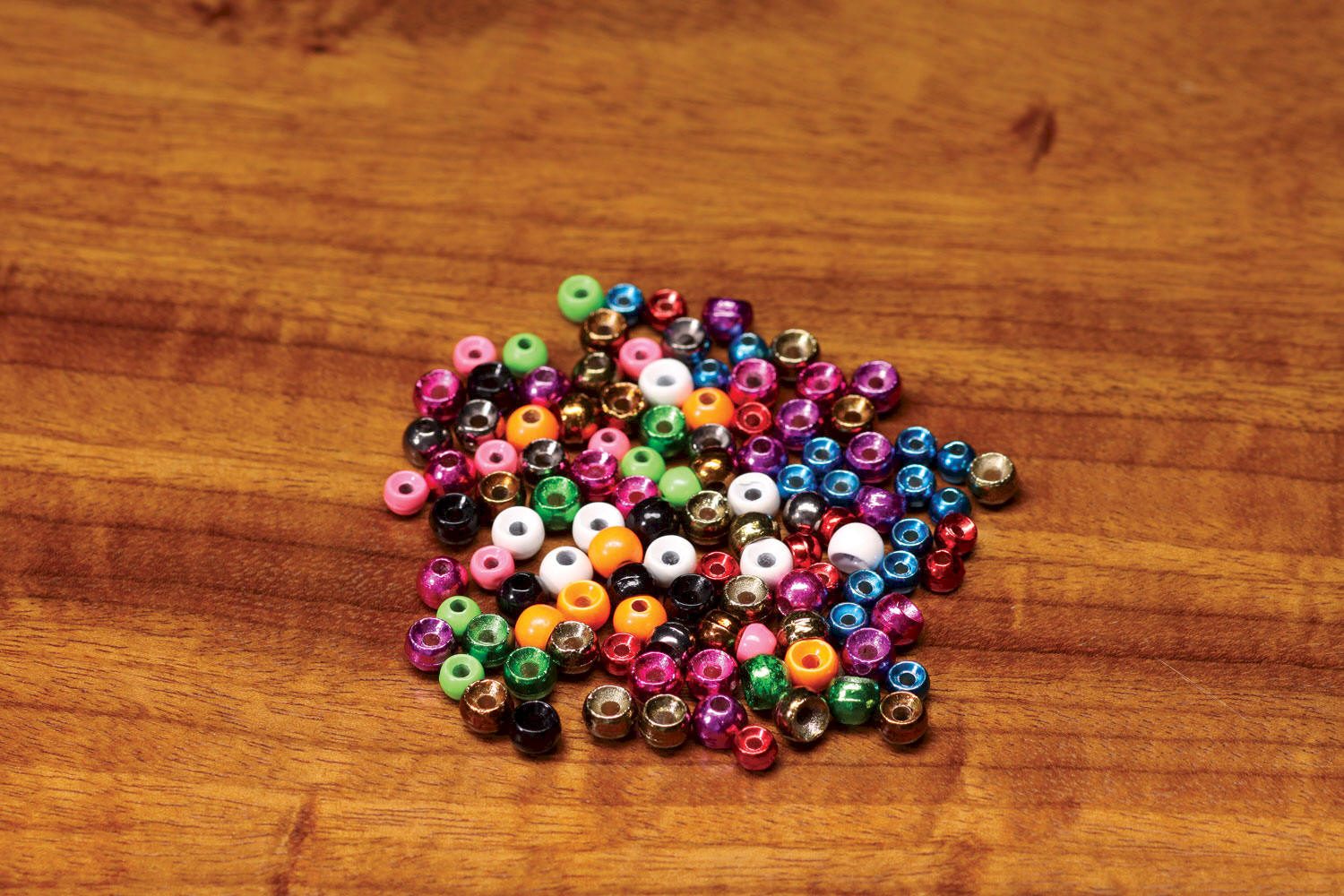 PRODUCT
PRICE
ADD TO CART
BLACK NICKEL-1/16"
$8.75 PER PACK
BLACK NICKEL-5/64"
$8.75 PER PACK
BLACK NICKEL-3/32"
$8.75 PER PACK
BLACK NICKEL-7/64"
$8.75 PER PACK
BLACK NICKEL-1/8"
$8.75 PER PACK
-BLACK NICKEL-5/32"
$8.75 PER PACK
BLACK NICKEL-3/16"
$8.75 PER PACK
BLACK NICKEL-7/32"
$9.50 PER PACK

---

COPPER-1/16"
$8.75 PER PACK
COPPER-5/64"
$8.75 PER PACK
COPPER-3/32"
$8.75 PER PACK
COPPER-7/64"
$8.75 PER PACK
COPPER-1/8"
$8.75 PER PACK
COPPER-5/32"
$8.75 PER PACK
COPPER-3/16"
$8.75 PER PACK
COPPER-7/32"
$9.50 PER PACK

---

GOLD-1/16"
$8.75 PER PACK
GOLD-5/64"
$8.75 PER PACK
GOLD-3/32"
$8.75 PER PACK
GOLD-7/64"
$8.75 PER PACK
GOLD-1/8"
$8.75 PER PACK
GOLD-5/32"
$8.75 PER PACK
GOLD-3/16"
$8.75 PER PACK
GOLD-7/32"
$9.50 PER PACK

---

JET BLACK-1/16"
$8.75 PER PACK
JET BLACK-5/64"
$8.75 PER PACK
JET BLACK-3/32"
$8.75 PER PACK
JET BLACK-7/64"
$8.75 PER PACK
JET BLACK-1/8"
$8.75 PER PACK
JET BLACK-5/32"
$8.75 PER PACK
JET BLACK-3/16"
$8.75 PER PACK
JET BLACK-7/32"
$9.50 PER PACK

---

NICKEL-1/16"
$8.75 PER PACK
NICKEL-5/64"
$8.75 PER PACK
NICKEL-3/32"
$8.75 PER PACK
NICKEL-7/64"
$8.75 PER PACK
NICKEL-1/8"
$8.75 PER PACK
NICKEL-5/32"
$8.75 PER PACK
NICKEL-3/16"
$8.75 PER PACK
NICKEL-7/32"
$9.50 PER PACK

---

RED-1/16"
$8.75 PER PACK
RED-5/64"
$8.75 PER PACK
RED-3/32"
$8.75 PER PACK
RED-7/64"
$8.75 PER PACK
RED-1/8"
$8.75 PER PACK
RED-5/32"
$8.75 PER PACK
RED-3/16"
$8.75 PER PACK
RED-7/32"
$9.50 PER PACK

---

FL CHARTREUSE-1/16"
$8.75 PER PACK
FL CHARTREUSE-5/64"
$8.75 PER PACK
FL CHARTREUSE-3/32"
$8.75 PER PACK
FL CHARTREUSE-7/64"
$8.75 PER PACK
FL CHARTREUSE-1/8"
$8.75 PER PACK
FL CHARTREUSE-5/32"
$8.75 PER PACK
FL CHARTREUSE-3/16"
$8.75 PER PACK
FL CHARTREUSE-7/32"
$9.50 PER PACK

---

FL ORANGE-1/16"
$8.75 PER PACK
FL ORANGE-5/64"
$8.75 PER PACK
FL ORANGE-3/32"
$8.75 PER PACK
FL ORANGE-7/64"
$8.75 PER PACK
FL ORANGE-1/8"
$8.75 PER PACK
FL ORANGE-5/32"
$8.75 PER PACK
FL ORANGE-3/16"
$8.75 PER PACK
FL ORANGE-7/32"
$9.50 PER PACK

---

FL PINK-1/16"
$8.75 PER PACK
FL PINK-5/64"
$8.75 PER PACK
FL PINK-3/32"
$8.75 PER PACK
FL PINK-7/64"
$8.75 PER PACK
FL PINK-1/8"
$8.75 PER PACK
FL PINK-5/32"
$8.75 PER PACK
FL PINK-3/16"
$8.75 PER PACK
FL PINK-7/32"
$9.50 PER PACK

---

FL WHITE-1/16"
$8.75 PER PACK
FL WHITE-5/64"
$8.75 PER PACK
FL WHITE-3/32"
$8.75 PER PACK
FL WHITE-7/64"
$8.75 PER PACK
FL WHITE-1/8"
$8.75 PER PACK
FL WHITE-5/32"
$8.75 PER PACK
FL WHITE-3/16"
$8.75 PER PACK
FL WHITE-7/32"
$9.50 PER PACK

---

METALLIC BLUE-1/16"
$8.75 PER PACK
METALLIC BLUE-5/64"
$8.75 PER PACK
METALLIC BLUE-3/32"
$8.75 PER PACK
METALLIC BLUE-7/64"
$8.75 PER PACK
METALLIC BLUE-1/8"
$8.75 PER PACK
METALLIC BLUE-5/32"
$8.75 PER PACK
METALLIC BLUE-3/16"
$8.75 PER PACK
METALLIC BLUE-7/32"
$9.50 PER PACK

---

METALLIC BROWN-1/16"
$8.75 PER PACK
METALLIC BROWN-5/64"
$8.75 PER PACK
METALLIC BROWN-3/32"
$8.75 PER PACK
METALLIC BROWN-7/64"
$8.75 PER PACK
METALLIC BROWN-1/8"
$8.75 PER PACK
METALLIC BROWN-5/32"
$8.75 PER PACK
METALLIC BROWN-3/16"
$8.75 PER PACK
METALLIC BROWN-7/32"
$9.50 PER PACK

---

METALLIC GREEN-1/16"
$8.75 PER PACK
METALLIC GREEN-5/64"
$8.75 PER PACK
METALLIC GREEN-3/32"
$8.75 PER PACK
METALLIC GREEN-7/64"
$8.75 PER PACK
METALLIC GREEN-1/8"
$8.75 PER PACK
METALLIC GREEN-5/32"
$8.75 PER PACK
METALLIC GREEN-3/16"
$8.75 PER PACK
METALLIC GREEN-7/32"
$9.50 PER PACK

---

METALLIC PURPLE-1/16"
$8.75 PER PACK
METALLIC PURPLE-5/64"
$8.75 PER PACK
METALLIC PURPLE-3/32"
$8.75 PER PACK
METALLIC PURPLE-7/64"
$8.75 PER PACK
METALLIC PURPLE-1/8"
$8.75 PER PACK
METALLIC PURPLE-5/32"
$8.75 PER PACK
METALLIC PURPLE-3/16"
$8.75 PER PACK
METALLIC PURPLE-7/32"
$9.50 PER PACK

---

METALLIC RED-1/16"
$8.75 PER PACK
METALLIC RED-5/64"
$8.75 PER PACK
METALLIC RED-3/32"
$8.75 PER PACK
METALLIC RED-7/64"
$8.75 PER PACK
METALLIC RED-1/8"
$8.75 PER PACK
METALLIC RED-5/32"
$8.75 PER PACK
METALLIC RED-3/16"
$8.75 PER PACK
METALLIC RED-7/32"
$9.50 PER PACK

---

SALMON PINK-1/16"
$8.75 PER PACK
SALMON PINK-5/64"
$8.75 PER PACK
SALMON PINK-3/32"
$8.75 PER PACK
SALMON PINK-7/64"
$8.75 PER PACK
SALMON PINK-1/8"
$8.75 PER PACK
SALMON PINK-5/32"
$8.75 PER PACK
SALMON PINK-3/16"
$8.75 PER PACK
SALMON PINK-7/32"
$9.50 PER PACK

---